The International Journal of Technology in Education (IJTE) is a peer-reviewed scholarly online journal. The IJTE is published twice a year in Spring and Fall.
The IJTE is the published  by the International Society for Technology, Education, and Science (ISTES).
There is no publication fee in the IJTE.
The IJTE is an international journal and welcomes any research papers on educational technology using techniques from and applications in any technical knowledge domain: original theoretical works, literature reviews, research reports, social issues, psychological issues, curricula, learning environments, book reviews, and review articles. The articles should be original, unpublished, and not in consideration for publication elsewhere at the time of submission to the IJTE.
Please consider that editor and reviewers invest significant time in the submission. Thus, the submission cannot be withdrawn without the approval of the editorial office during the review, the revision, the production after acceptance or publication process.
The template is not mandatory for articles submitted for review. The template can be used for accepted papers.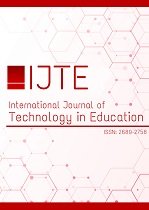 Announcements
Call for Papers for a Special Issue on STEM Education

Dear Colleague,

The International Journal of Technology in Education (IJTE) is interested in publishing a special issue with a focus onSTEM Education. We, Dr. Macalalag and Dr. Johnson, have been asked to serve as guest editors for this special issue.

We are looking for colleagues globally who are interested in contributing articles related to trends, research, and pedagogy in STEM Education, to be published in the one of the 2021 issues of IJTE. Qualitative, quantitative, and mixed method research papers, position statements, literature reviews, theoretical works, and works related to STEM Education will be considered. In addition, manuscripts addressing any levels of education and learners are invited. We encourage manuscripts that focus on the integration of at least two STEM disciplines.  Example topics include:

Integrated STEM education

Technology and science education

Science and engineering education

Engineering and technology education

Mathematics and technology education

Environmental and engineering education 

Socioscientific issues in STEM disciplines 

We do have flexibility on the page length, but suggest a maximum of 40 double-spaced manuscript pages (plus references) using APA style guidelines with Times New Roman 12 font. Authors for whom English is a second language are encouraged to have their manuscripts professionally edited prior to submission to improve readability.

Manuscript submission, review and revision timeline: (Note: All deadlines occur at midnight, Eastern Standard Time on the days listed)

August 1, 2020 (Authors): Blind draft manuscript deadline

September 15, 2020 (Reviewers):  Manuscript reviews due

October 1, 2020 (Co-editors): Accept/Reject paper deadline; Consolidate reviewer comments and send revision requests to authors

November 1, 2020 (Authors):  Upload final paper- all blind indicators removed

After November 1, 2020 (Authors): Accept the copyright transfer, add all co-authors, update author bios

2021 Publication 

Manuscripts may be sent through the journal system: http://www.ijte.net

Sincerely,

Dr. Augusto Z. Macalalag Jr., Guest Co-Editor

Associate Professor of STEM Education

Director of the M.Ed. in Integrative STEM Education Program

Arcadia University

Glenside, PA, U.S.A.

Dr. Joseph Johnson, Guest Co-Editor

Associate Professor of Physics

Mercyhurst University

Erie, PA, U.S.A.

International Journal of Technology in Education (IJTE) 

Email: ijteoffice@gmail.com

 

NOTE: Please make a note in the editorial letter stating that it is sent for the speial issue.

Posted: 2020-05-14
More...
Vol 3, No 2 (2020)
Table of Contents
Articles
| | | |
| --- | --- | --- |
| | Naima Ahmad Al-Husban | 82-91 |
| | | |
| --- | --- | --- |
| | Oladotun Opeoluwa Olagbaju, Adeolu Gabriel Popoola | 92-104 |
| | | |
| --- | --- | --- |
| | Hazel B. Baterna, Teodolyn Deanne G. Mina, Danilo Villar Rogayan | 105-117 |